Nestled along the pristine coast of the Pacific Ocean, Del Mar is a quintessential Southern California beach town where the only thing you won't find is a dull moment. In whichever way you like to have a good time–whether that's lounging on the beach, hiking through scenic trails, or discovering new restaurants, it holds plenty of promise for everyone. Here are some of the best things to do in and around Del Mar, CA.
BEACH ACTIVITIES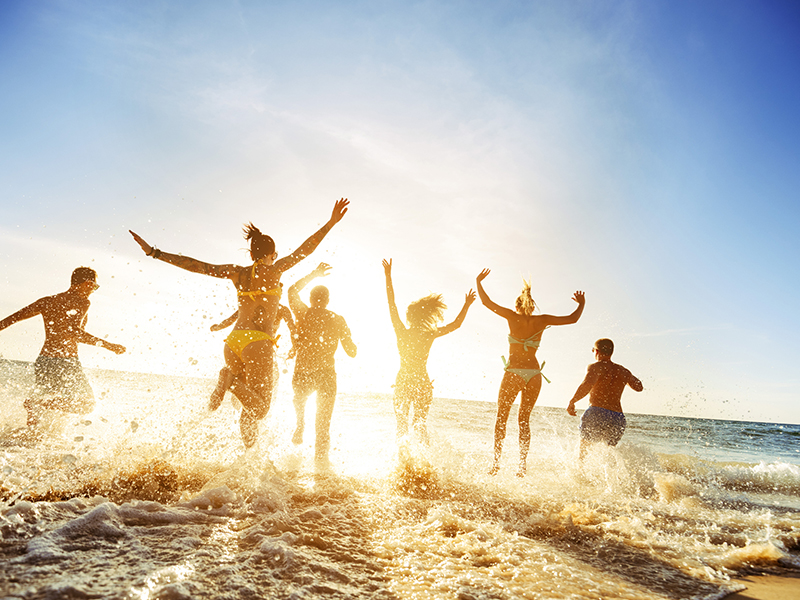 Go surfing at Del Mar City Beach

Del Mar City Beach is a surfer's paradise. From the point break at 15th Street to the beach break at Powerhouse Park, surfers can choose from a range of options depending on their skill level.

But Del Mar City Beach isn't just all about the waves. It also has a tight-knit surf community that welcomes like-minded individuals and anyone who wants to learn more about the sport. Several surf schools offer lessons, including Del Mar Surf School and Rusty Del Mar.

Bring your fur babies to Dog Beach

The Dog Beach (also known as North Beach) is a gem for many of Del Mar's pet owners. Tucked between the ocean and the San Dieguito River Lagoon, it offers breathtaking views and a place where your dogs can play and swim. Most of the year, you can visit Dog Beach with your pets sans leash, but in the summer, it's required.

The area is well-equipped with essential pet amenities like water fountains, shower stations, and doggy bags, making it easy to keep your pooch clean. Several stores are also just a short walk away, so there are plenty of options for grabbing food or last-minute supplies for your visit.

Relax at Fletcher Cove

Fletcher Cove Beach Park in nearby Solana Beach is only an easy seven-minute drive from the center of Del Mar. It's a seaside haven where you can unwind and enjoy the San Diego coast's natural beauty in peace. Intimate and serene, it's the perfect place for picnicking or just having a wonderful time enjoying the ocean with family and friends.

Many parts of Fletcher Cove Beach Park are raised slightly above the shore, offering panoramic views of the Pacific. It also features expansive green spaces where you can hang out during high tide. Take note that it's difficult to access the beach when the water is high, so it's highly recommended to visit during low or medium tide.
OUTDOOR ATTRACTIONS AND RECREATIONS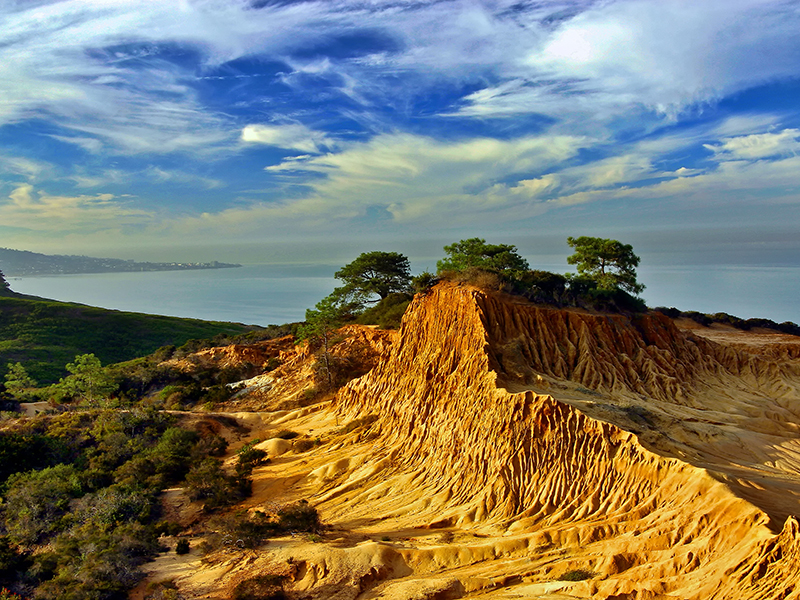 Torrey Pines State Natural Reserve

For nature lovers looking for things to do in Del Mar, CA that aren't solely involved with the beach, visit Torrey Pines State Natural Reserve. It's only about 2.6 miles south of Del Mar and takes less than 10 minutes to get to.

Perched above the rough cliffs of Torrey Pines State Beach, the reserve offers spectacular ocean views and 1,500 acres of protected landscape that will take your breath away. Most of the land is intact and offers visitors a glimpse of what San Diego County must have looked like back in the time of the Kumeyaay.

As you explore Torrey Pines' nature trails, you'll come across various local flora and fauna. Bring a pair of binoculars to spot seabirds, humpback whales, and gray whales migrating from your perch. And keep your eyes peeled for the rare Torrey pine, a critically endangered tree species that you can only find in the region.

One of the most recommended nature paths to take in Torrey Pines is the Guy Fleming trail, an easy and family-friendly loop that runs for just under two miles. It winds through the heart of the reserve, offering views of the surrounding hillside and its unique flora and fauna. Meanwhile, the four-mile Beach Trail is much more challenging, but it provides an opportunity to discover the area's hidden coves and tide pools.

Crest Canyon Park

If you want to be closer to home, you'll also find many beautiful nature trails in Crest Canyon Park. The trails run from easy to moderately difficult, but you'll be rewarded with panoramic overlooks of the ocean and the surrounding area.

Crest Canyon Park is also an important cultural site and a sacred patch of land for many. Once home to the Kumeyaay,, it provides a glimpse into the region's fascinating history. Today this heritage is celebrated through a range of programs and events that educate visitors about the place.

Grand Golf Club

Once you move to Del Mar, you'll soon discover that golf is a sport that's not taken lightly here. There are plenty of world-class courses in and around the area, and one of the best places to practice your stroke is at the Grand Golf Club. Located within The Fairmont in San Diego, about 5.7 miles away from Del Mar, Grand Golf Club features a 380-acre, 18-hole champion course designed by none other than legendary golf course architect Tom Fazio.

The club also features a range of luxurious amenities including practice facilities, a 50,000-sq. ft. clubhouse, and an exceptional restaurant called The Clubhouse Grill. There, you can enjoy a melange of elevated grill fare, as well as a wide range of beers, wines, and cocktails.
DINING OPTIONS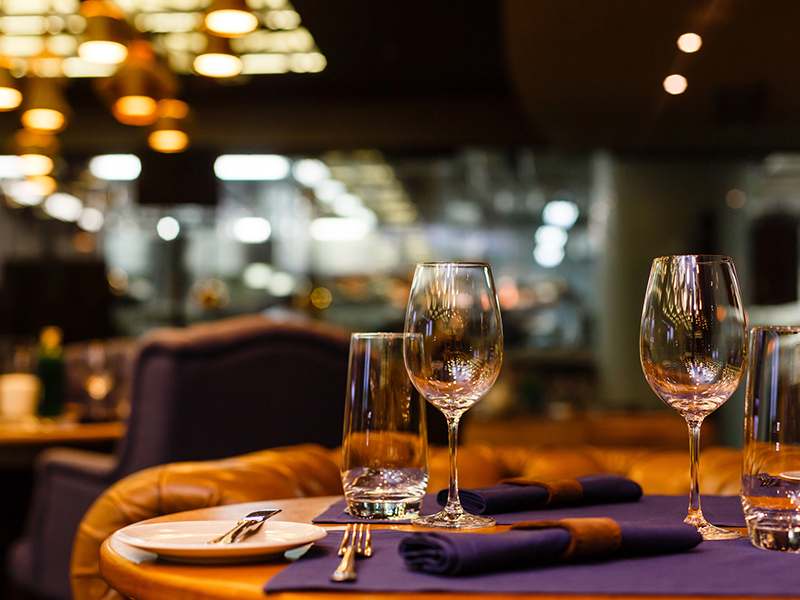 MARKET Restaurant + Bar

For many people, the restaurant's ambiance is as important as the food itself. If you prefer to eat in style, then MARKET Restaurant + Bar should be on top of your list. This simple and sleek place has a chic atmosphere that stands up well to its gorgeous clientele.

MARKET Restaurant + Bar's menu is a celebration of the farm-to-table movement, using seasonal ingredients sourced from local farmers and fishermen. The dishes are simple, yet thoughtfully crafted to highlight each ingredient's natural texture and flavor. From the fresh halibut to the succulent roasted duck breast, each bite will surely satisfy.

Pacifica Del Mar

Pacifica Del Mar is the city's answer to gourmet California coastal cuisine. Here, seafood takes center stage. There's a wide range of options that highlight the catch of the day, but no visit to Pacifica Del Mar is complete without trying its famous pan-roasted halibut.

Along with seafood, the restaurant also offers premium cuts of steak for meat lovers and a variety of plant-based options for vegetarians and vegans. Dishes like the miso-glazed king trumpet mushrooms showcase its commitment to providing an inclusive dining experience.

En Fuego Cantina & Grill

No matter what anyone says, tacos are a California staple, and Del Mar is no exception. While some upscale Mexican restaurants have fancy fusion dishes, En Fuego Cantina & Grill sticks with the basics and refines them. A neighborhood institution, it has been serving authentic Mexican cuisine since 1995.

The menu includes many of the classics: tacos, burritos, quesadillas, and more. Each order is fresh from the grill and can be customized to your liking. You can add more toppings, choose the type of protein, and pick the type of tortilla you prefer.
NIGHTLIFE VENUES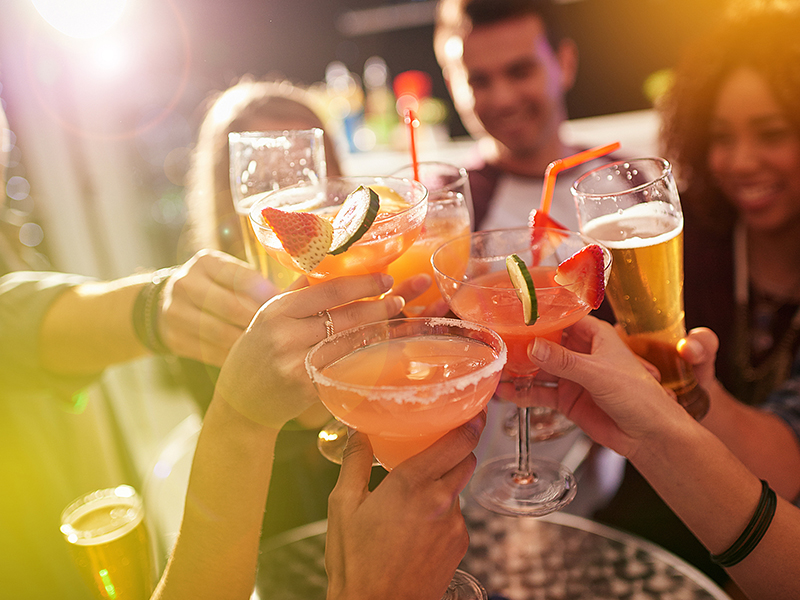 Jimmy O's

Jimmy O's is the epitome of the classic sports bar. There are no gimmicks or pretentiousness, just an easygoing atmosphere where people can have a good time. The place is adorned with numerous flat screens, so everyone can catch up on their favorite sports game while enjoying a cold beer.

The place offers classic American pub grub that locals rave about. Jimmy O's burgers are especially popular, with their thick, juicy patties, served generously with a bunch of toppings.

Monarch Ocean Pub

There's nothing better than a great cocktail with a stellar setting to match. With its prime location overlooking the Pacific, the Monarch Ocean Pub provides a scenic spot for a night out with friends. The open-air restaurant has an upscale aesthetic, but still maintains a casual and beachy atmosphere that brings together people from all backgrounds.

While it's new to Del Mar's nightlife scene, the Monarch Ocean Pub quickly became a beloved destination for its craft cocktails. Timeless favorites like the Manhattan and Old Fashioned are available, but its signature drinks are always the crowd pleasers.

Culture Brewing Co.

Head over to Solana Beach and enjoy a cold pint at Culture Brewing Co. A popular San Diego brewery, it offers a rotating selection of craft beers, brewed in-house with quality in mind. From rich stouts to crisp lagers, it has the perfect drink for every palate.

This trendy brewery hosts events throughout the year. One of the main highlights is its live music performances. Local bands and musicians perform, showcasing the region's vibrant music scene. It also conducts charity fundraisers for several local non-profit organizations.
SHOPPING SPOTS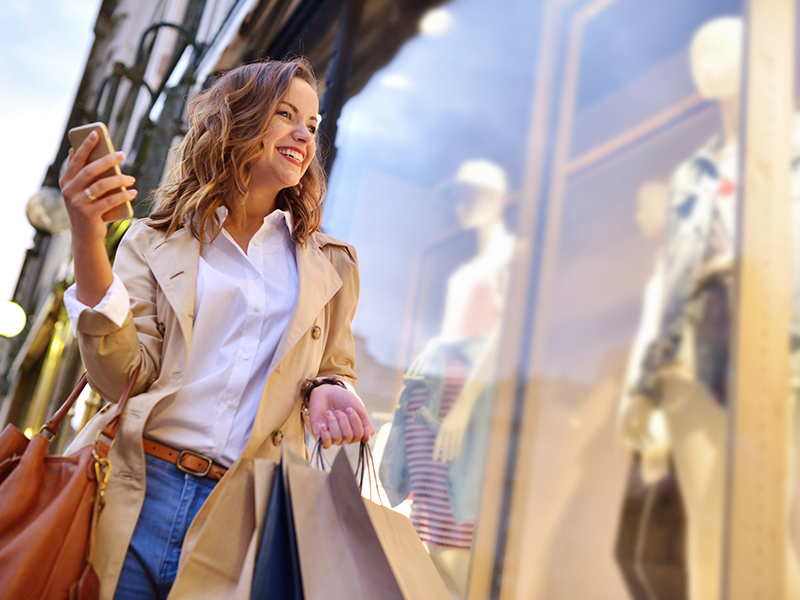 FAMILY-FRIENDLY DESTINATIONS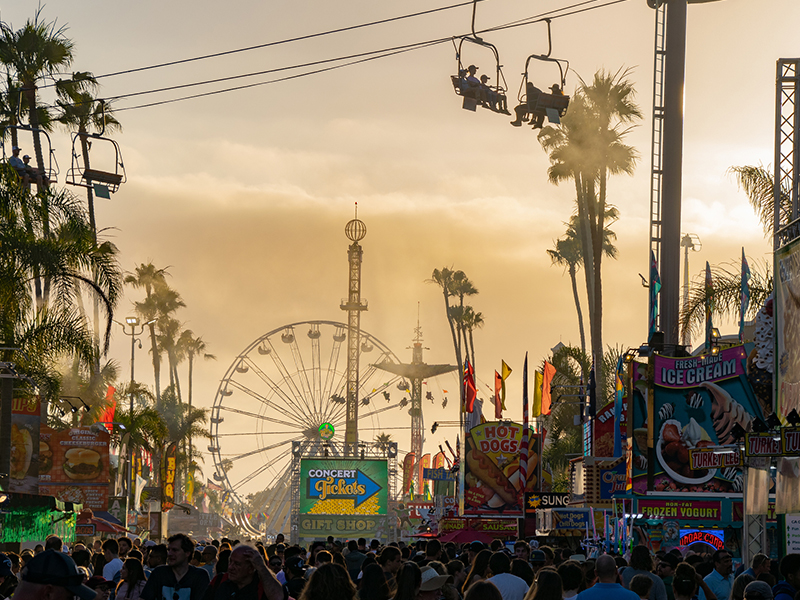 Del Mar Fairgrounds

Visiting the fairgrounds is one of the most fun things to do in Del Mar since it hosts several events throughout the year, including the San Diego County Fair. Every summer, families from all around visit this almost month-long event that features a dizzying number of attractions. The theme changes each time, so it's a must-visit every year.

This is also where you'll find the Del Mar Racetrack, which hosts a horse racing season each summer. Many of the top thoroughbreds and the most experienced jockeys come from all over the world to compete for millions of dollars in prizes.

Free Flight

The Free Flight Bird Sanctuary is a unique and tranquil destination where you can interact with rescued exotic birds. It offers guided tours and several interactive exhibits that focus on these feathered creatures and the importance of conservation. Visitors can feed parrots, learn about macaws, and watch cockatiels fly from tree to tree.

Beyond being an attraction, the Free Flight Bird Sanctuary serves as a crucial educational resource. It offers educational programs for schools, raising awareness about the importance of protecting endangered birds. The sanctuary also helps to re-home the birds they've rescued and rehabilitated.

Del Mar Art Center Gallery

Immerse yourself in the vibrant world of contemporary art at the Del Mar Art Center Gallery. A non-profit organization founded in 2000, the center provides a space for local artists to present their work. It hosts an extensive collection of paintings, sculptures, and other forms of art forms, allowing visitors to learn about and appreciate different styles and techniques.

The Del Mar Art Center is currently conducting exhibits at three locations: Chase Bank at Camino Del Mar, Cinepolis in Del Mar Highlands Town Center, and Cinepolis in Plaza Paseo Real. Here, visitors can shop for original art from the region's emerging artists.
FIND THE PERFECT HOME IN DEL MAR, CA WITH THE JACKSON TEAM
Live in a beach town that's idyllic and exciting at the same time. Whether you're an indoor person or an outdoor enthusiast, there are plenty of things to see and do in Del Mar, CA. It's also where you'll find some of San Diego's most in-demand properties. Let the Jackson Team be your guide in your search for the perfect home in the area.
As top San Diego Realtors, our team specializes in luxury real estate marketing and finding homes for buyers of all types. Backed by 20+ years of combined experience and equipped with hyper-local expertise, we provide each client with up-to-date market information, exclusive listings, and personalized services.
Let The Jackson Team help you find the home that'll match your lifestyle. Get in touch with us at 858.822.9694 or contact us here to get started.