Rancho Santa Fe at Rancho Santa Fe checks all the boxes of the ideal golf community and playground. Nestled in the foothills of Southern California's coastal canyons, just a little over 30 minutes from Downtown San Diego, this exclusive neighborhood was built around the prestigious The Bridges at Rancho Santa Fe Golf Course, considered one of the best golf courses not only in North San Diego but also in the entire United States.
The Bridges at Rancho Santa Fe golf course offers a true visual feast, with stunning views of citrus groves, flowers, canyons, and the Pacific Ocean. Two state-of-the-art stress ribbon bridges serve as the course's centerpieces.
But avid golfers can expect more than a sightseeing tour. The 18-hole championship course provides unique challenges that require golfers to up their game and fully harness their skills, making for a truly satisfying playing experience.
Learn more about golfing at The Bridges at Rancho Santa Fe with this definitive guide.
What's Inside:
The golf course design
Practice facilities
The RCH Performance Centre
Luxury amenities
Pro Shop

The Clubhouse
The Bridges Sports Centre
The Bridges Tennis and Recreation Centre
Restaurants
Social events
Concierge services
The Bridges at Rancho Santa Fe Golf Course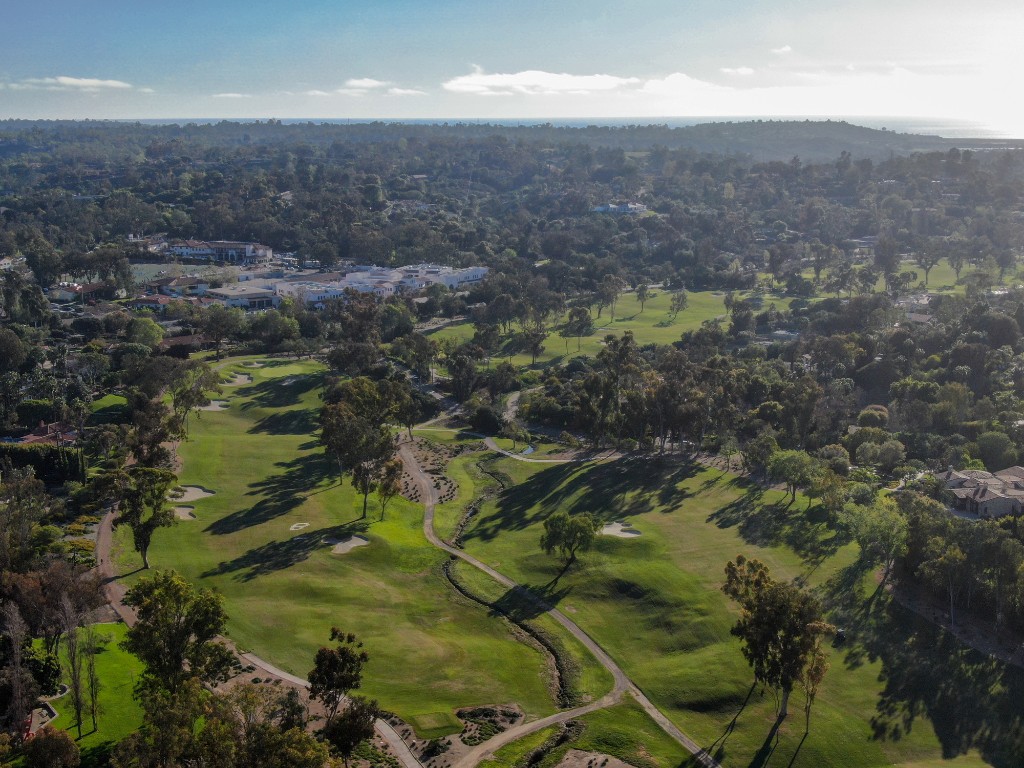 The Bridges at Rancho Santa Fe Golf Course was designed by the Robert Trent Jones II Group in 1999. It has a par-71 layout, boasts 5 tees, and an estimated length of 7,002 yards from the tips. It has a course rating of 74.0 and a slope rating of 145.
The Bridges came into national prominence when it hosted The Battle at the Bridges, a series of golf competitions that aired on the ABC TV network from 2003 to 2005. Dubbed as a match play golf challenge, The Battle at the Bridges featured some of the sport's legends, including Tiger Woods, Phil Mickelson, John Daly, and Ernie Els. Phil Mickelson eventually became a member of the golf club after the show ended.
The golf course design
Designed around the area's natural terrain deep in hilly Rancho Santa, The Bridges golf course feels every inch like a sanctuary. Golf Digest has included it in its roster of the Top 30 golf courses in California and the Top 200 golf courses in America. The magazine cites its thoughtful design, which they describe as "a contrast of sculpted architecture with smooth-edged, cape-and-bay style bunkering, reflection ponds and flowing fairway lines set against the property's rugged ridges and canyons, with long views toward the Pacific off the highest points."
The course architects at Robert Trent Jones II Group say the course was created to be both visually stimulating and mentally challenging, with a variety of "strategic options" to make it enjoyable for players of various skill levels. As the representative says, "To achieve this, we incorporate a risk/reward philosophy, providing bail-out zones for higher-handicap players, while enticing accomplished players to hit great shots."
The course features multiple bunkers, dramatic elevation changes, a few forced carries, and several water hazards, all providing a level of difficulty that has been described as challenging but not insurmountable. The first nine holes wind through the community's denser residential areas, while the last nine are spread out on a vast expanse in an area populated by large estates.
The course's signature feature is the collection of seven bridges strategically designed to connect several holes. The most stunning – and the most intimidating – is the 10th hole's 285-foot bridge, which players have to cross after executing a 150-yard forced carry across the Escondido Creek ravine.
Practice facilities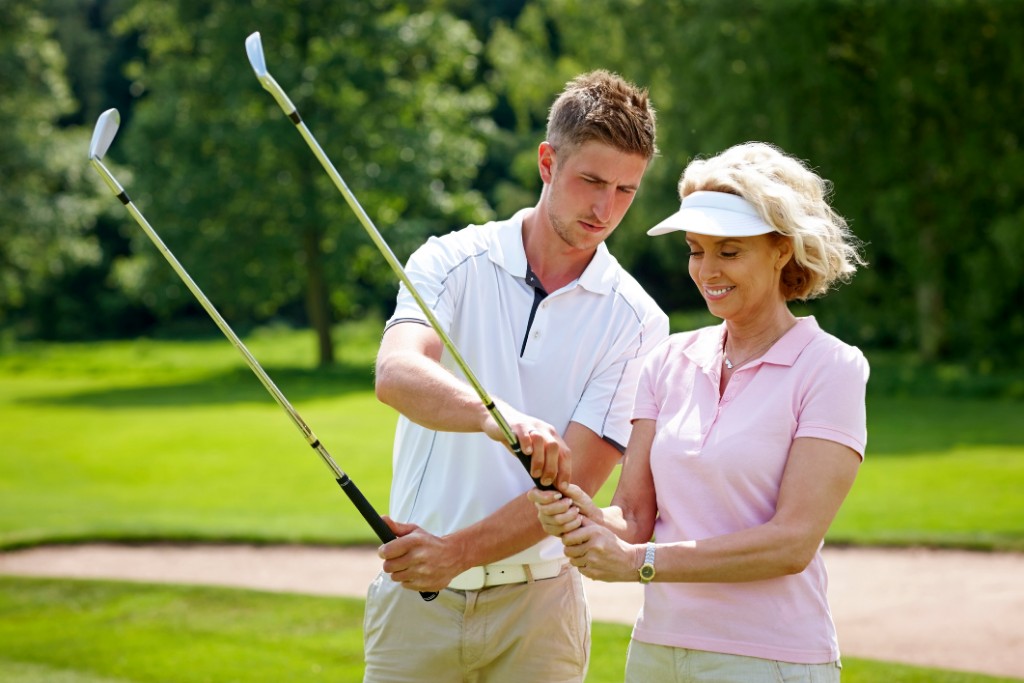 The practice facilities at The Bridges at Rancho Santa Fe are second to none. Three separate tees with the same spectacular views as the golf course help players prepare for the different aspects of the game.
The Short Game Practice Tee

This facility allows players to practice their shots from 40 yards to 160 yards at increments of 10 yards. There are multiple targets surrounded by bunkers, providing opportunities for players to practice their short and long range bunker shots.

The Warm Up Tee

This practice facility features more than twenty targets to help players hone their hitting skills.

The Practice Tee

Designed for serious golfers, this facility has multiple features, including a number of targets, an area for short games, an area for long and short bunker shots, and uneven lies.
The Trackman Launch Monitor and swing and club fit technology are used by attending coaches to improve players' strokes using every club. The Bridges Golf and Fitness Program takes the training further, helping players to develop the right physical and technical elements to play like a pro.
The RCH Performance Centre
Opened only in 2020, the Richard C. Helmstetter Performance Centre takes player training a notch higher. The Centre has partnered with the best golf technology providers and employs world-class instruction to combine physical fitness and the right swinging techniques. With the guidance of professional instructors, players get holistic training on how to avoid injuries while improving their scores.
Luxury amenities
Along the course are two luxury comfort stations – Trevi and Ponti – where golfers can enjoy complimentary refreshments and gourmet snacks like salads, frozen fruits, trail mix, and so on.
The Bridges' locker rooms are ranked among Golf Digest's Best Golf Locker Rooms. Providing stunning views and upscale architectural details, the locker rooms feature spa amenities and lounge areas with exceptionally comfortable indoor and outdoor seating. The men's locker room lounge has a full bar, a pool table, TVs, and more, while the women's lounge features card tables, TVs, a reading nook, a viewing deck, and other amenities.
Pro Shop
The pro shop provides a complete shopping experience, offering not only top-of-the-line golf gear and equipment, but also high end apparel, home accessories, and other lifestyle items.
The Bridges at Rancho Santa Fe Club
The Bridges at Rancho Santa Fe is more than just about golf. It offers a complete lifestyle that fosters close community ties and builds lifelong friendships. Non-golfers will also find a host of activities and amenities to enjoy, making every visit to the Club an unforgettable experience.
The Clubhouse
The 36,000 square foot clubhouse at The Bridges at Rancho Santa Fe is a recipient of the PCBC Gold Nugget Award for architectural design. It features a formal dining room, a grill room, men's and women's lounges, and a spa.
The Bridges Sports Centre
Covering 10,000 square feet, The Bridges Sports Centre offers top-of-the-line facilities for day long recreational and fitness activities, including:
State-of-the-art gym and fitness equipment
Exercise and fitness classes, such as yoga and pilates
A heated saline swimming pool for lap swimming and kids' play
A full service day spa that offers massage therapies and various body treatments
Basketball court
Jacuzzi
Men's and women's locker rooms with a spa, sauna, and steam showers
A casual dining restaurant
The Bridges Tennis and Recreation Centre
This five-acre recreational area boasts the following amenities:
Five lighted tennis courts and an exhibition court
Sports field
A bocce court
Two pickleball courts
Multipurpose sports court
Covered playground
Coffee shop
Lounge
Art room
Restaurants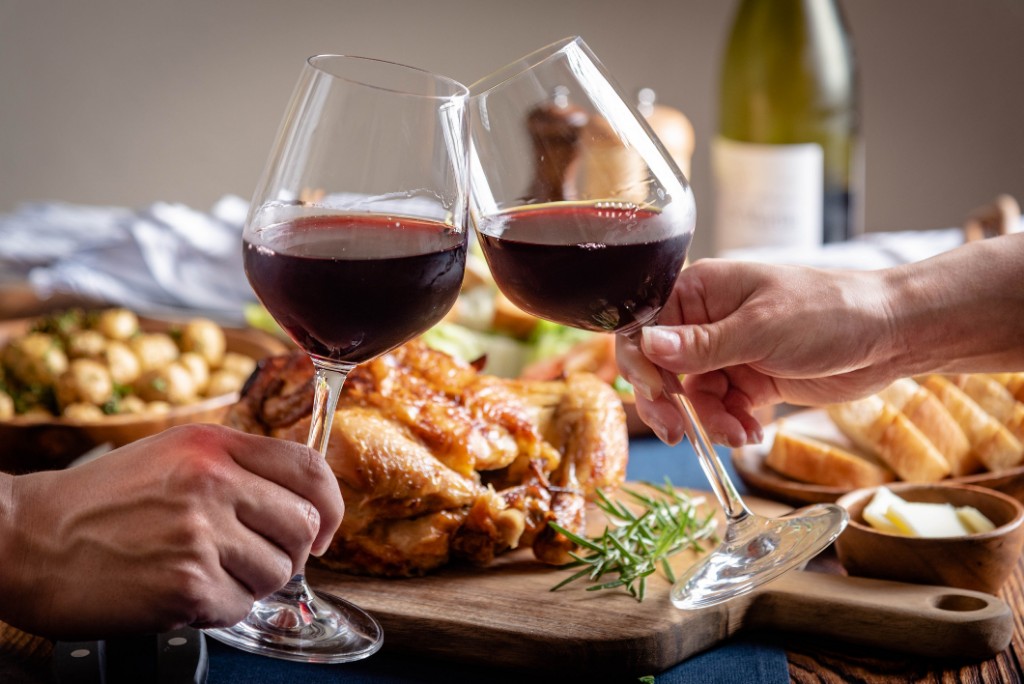 The Bridges has its own vineyards and community gardens, which provide the club's dining rooms with excellent house wines and ingredients for authentic farm to table dining. Club members and guests can enjoy a range of casual to fine dining experiences at the Club's three restaurants, The Grille, Bridges Market, and Poolside Cafe.
Social events
The Bridges team organizes a wide array of events and community activities that fill up club members' social calendars all year round. In addition to friendly golf competitions among men and women, other events include wine tastings, holiday celebrations, summer camps, concerts, and live performances.
Concierge services
The Bridges' Concierge team provides white glove services to enhance the lifestyle of club members. They connect members with the service providers they need, from pet care and personal home repairs to notary and logistics services. They also assist in booking tickets for a show, arranging travel accommodations, creating vacation itineraries, and so on. Membership to the club also includes access to world-class medical facilities, exclusive clubs, and other perks.
Membership to The Bridges at Rancho Santa Fe Club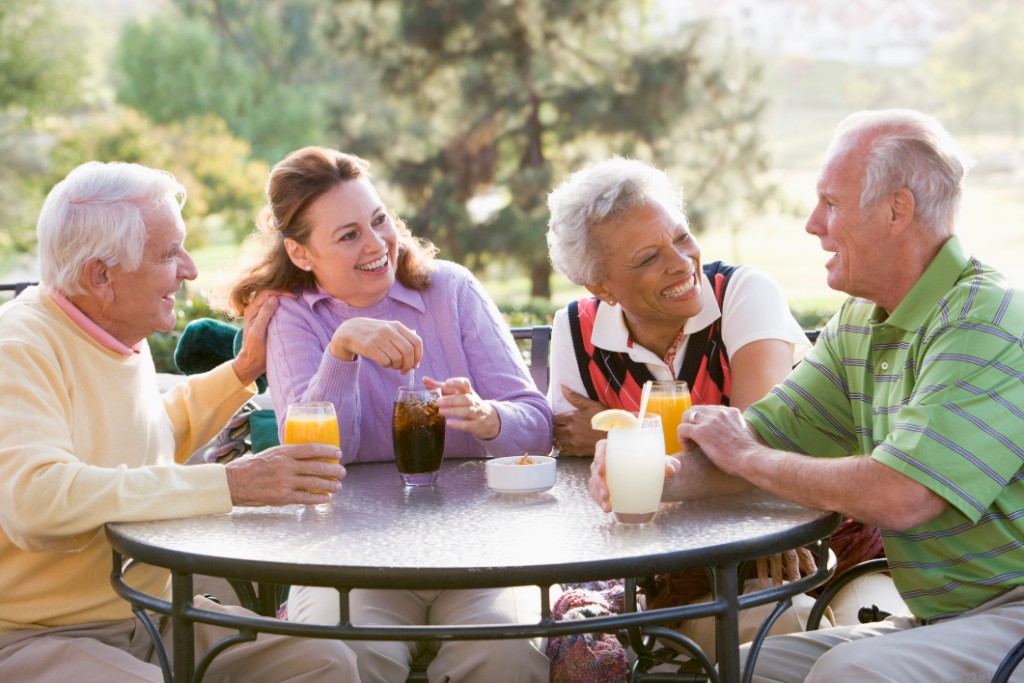 The Bridges at Rancho Santa Fe Club maintains exclusivity by keeping the facilities accessible only to members, their families, and their guests. There are four membership categories, each providing a range of privileges:
Equity Golf membership

Full and unlimited access to the golf course and practice facilities
Full access to other facilities, including the Clubhouse, Sports Centre, Tennis & Recreation Centre, restaurants, and social events

National membership

A maximum of 36 rounds of golf for every calendar year
Full access to other facilities, including the Clubhouse, Sports Centre, Tennis & Recreation Centre, restaurants, and social events
Ideal for members who are not San Diego homeowners but frequently travel to the area

Young Executive membership

Available to individuals under 45 years old
Reduced annual dues
Full access to the golf course, practice facilities, Clubhouse, Sports Centre, Tennis & Recreation Centre, restaurants, and social events

Social/Fitness membership

Full access to Club facilities, including the Clubhouse, the Sports Centre, Tennis & Recreation Centre, restaurants, and social events
All membership privileges extend to the spouse or partner, as well as to the member's children aged 26 and below. The use of carts, lockers, storage, range balls, and similar facilities are covered by the monthly dues.
Accolades and reviews for The Bridges at the Rancho Santa Fe Golf Club
With its one-of-a-kind course design, spectacular views, and unparalleled amenities, The Bridges at the Rancho Santa Fe Golf Club has received rave reviews and numerous accolades from golf publications, homeowners, and amateur and professional golf players from all over the world.
These are some of the awards and recognitions given to The Bridges golf club:
Best Shot Value, Memorability, and Conditioning Course (Golf Digest)
Top 20 Course in California (Golf Digest)
Top 20 of 'Best in California'(Golf Digest)
America's Second 100 Greatest Courses (Golf Digest)
Top 25 Best Golf Locker Rooms (Golf Digest)
Top 100 Resort Course (Golfweek)
Top 100 Residential Course (Golfweek)
Best Courses You Can Play – California (Golfweek)
Top 200 Residential Golf Courses (Golfweek)
Top 200 Modern Courses (Golfweek)
Here's what golf experts and aficionados have to say about the golf course and what you can expect in playing here.
"Every hole on the back is distinct and dramatic. The fairways are fairly wide but copious amounts of sand serve as a reminder that any major failures from the tee will not be overlooked. Each bunker—and there are nearly 100—is a work of art, unique in shape and design; players often require more lofted clubs than usual to get balls back to safe haven."- Links Magazine
"There probably isn't a nicer, more challenging and beautiful golf course in San Diego than The Bridges." – GolfPass.com
"…the course is routed across a tumbling landscape of canyons, gorges, and gullies, where a fierce slope of 142 from the back tees tells its own tale of how challenging the terrain can be amongst the foothills." – Top100GolfCourses.com
"The San Diego Union Tribune calls the Bridges Club the "Louvre" of North County country clubs, but I believe it is more like the Palace of Versailles with its manicured grounds and terrific service to its residents, members, and guests." – Patrick Henry, former The Bridges at Rancho Santa Fe homeowner
"The Bridges at Rancho Santa Fe golf club was built in 1999 and it boasts its excellent golf course designed by Robert Trent Jones Jr., aimed at delivering a solid melange of beautiful scenery, difficult holes and the ideal (as in fair) layout if it ever was one." – GolfInfoGuide.com
"Not far from Rancho Santa Fe, The Bridges At Rancho Santa Fe offers terrific views and challenging play for golfers at every skill level. Well-groomed fairways and greens keep The Bridges At Rancho Santa Fe difficult yet friendly, and the staff can offer tips and tricks for playing your best round. " – Golfnow.com
Real estate at The Bridges at the Rancho Santa Fe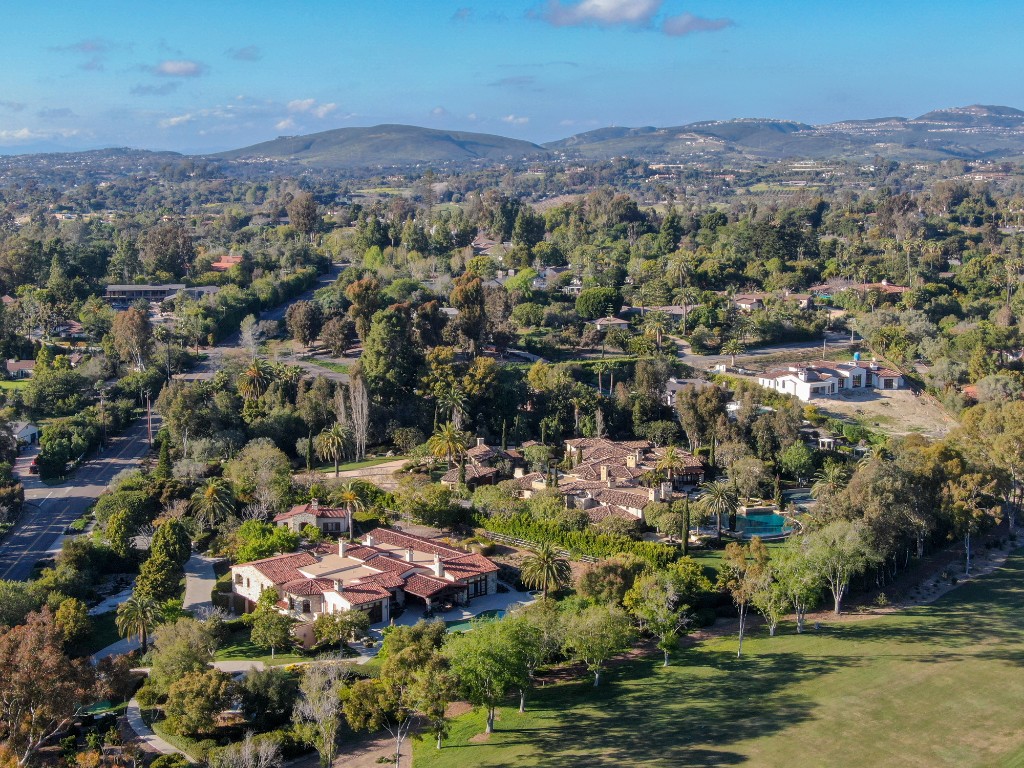 Real estate at The Bridges at Rancho Santa Fe is among the most coveted in North County San Diego. With approximately 240 residences spread across a total area of 540 acres, every home comes with more than ample space and features gorgeous views of the lush Rancho Santa Fe landscape.
As of April, 2022, the median listing price of homes for sale here was $5,820,00, and the average price per square foot was $603.23. Properties directly facing the golf course are considered the most desirable and command the highest prices.
Lot sizes in the neighborhood typically range from half an acre to two or more acres. Homes include luxury villas with floor areas of at least 3,000 square feet, as well as custom homes and estates of more than 10,000 square feet.
In keeping with the community's Tuscan theme, properties come in the Mediterranean style, with high end features and amenities such as hardwood floors, stone and brick finishes, gourmet kitchens, private swimming pools, and large windows that take full advantage of the surrounding views.
Outdoor living is also a common theme. Many homes come equipped with loggias, outdoor fireplaces, brick ovens, barbecue areas, and more. Guest houses, wine cellars, and a few private sports facilities are also among the high end features found in estate properties.
Explore your real estate options at The Bridges at Rancho Santa Fe
If you love golf, you can't find a better place to indulge in the game than The Bridges at Rancho Santa Fe. Even non-golfers in your family will be thrilled by the many wonderful experiences the club has to offer.
Let me, Delorine Jackson, help you find your dream home here. As a long time resident of The Bridges, I consider it a privilege to help my clients discover and enjoy the amazing way of life our community has to offer.
With over 20 years of real estate experience in Southern California, I have the knowledge and expertise to help you have a seamless and successful home buying or selling experience.
Get in touch today at 858.822.9694 or drop me a note here.