San Diego County is known for its laid-back culture which largely revolves around beachfront living. But there's more to the area beyond surfing and soaking in the sun with breathtaking views of the ocean. 
Further inland you'll find the impeccably landscaped properties and iconic red adobe roofs of Rancho Santa Fe. This hilly community boasts one of the most sought-after zip codes in the US.  
Rancho Santa Fe is the preferred home of prominent personalities and high-net-worth individuals who desire a truly private and secluded home without sacrificing modern conveniences. Tree-lined streets, country clubs, exclusive retail areas, and seemingly endless open space are some of the highlights of this historic community.
For the refined home buyer, Rancho Santa Fe is a compelling real estate investment that offers the best of Southern California. If you're thinking about purchasing a luxury estate in this community, The Jackson Team would be happy to assist you in your home search. 
This guide will walk you through everything you need to know about Rancho Santa Fe. But before exploring this fantastic community further, let's have a quick look at Sante Fe's history.
Community Roots
In 1840, Juan Maria Osuna, the first alcalde (mayor) of San Diego, received a land grant from Pio Pico, the Mexican Governor. This large swath of land (pning 8,800 acres) that would become Rancho Santa Fe was initially known as Rancho San Dieguito.
The ranch was effectively incorporated into US territory in 1850, when California joined the Union to become the 31st state. In 1871, the federal government officially recognized the provisional land grant in the name of Osuna's widow, Juliana Osuna. 
Early Land Development
At the start of the 20th century, Atchison, Topeka & Santa Fe Railroad (AT&SF) acquired the rights to the area. The company planted acres of eucalyptus trees, which would provide a stable supply of timber for rail line construction, but later discovered the trees were not suitable raw material for railroads.
The failure would pave the way for AT&SF to establish a separate entity called the Santa Fe Land Improvement Company (SFLIC). The latter was tasked to create an affluent residential community which would be named as Rancho Santa Fe in 1921.
Passing On and Preserving Heritage
Throughout the 1920s, SFLIC sold off large portions of the original San Dieguito land grant to private owners. The plan was to eventually transition management duties and remaining ownership rights to a nonprofit corporation, which would later become the Rancho Santa Fe Association.
The unveiling of Rancho Santa Fe golf club in 1929 was significant in attracting some of the early residents who were in search of spacious estates with easy access to nature. More new residents came in throughout the succeeding years and decades, including quite a few A-listers like Bing Crosby and Howard Hughes.
Today, Rancho Santa Fe is the oldest planned community in California and yet, still one of the most sought-after among wealthy buyers. Owing to the steady and consistent approach to development, it has carefully preserved its history while elevating residents' quality of life.
Location
Rancho Santa Fe is less than 15 minutes away from San Diego County's scenic shoreline, where communities like Del Mar and Solana Beach are situated. The city of San Diego is approximately 26 miles to the south or 30 minutes away by car. 
Due to its elevated location compared to nearby beachfront towns, Rancho Santa Fe offers some of the best views of the ocean and the surrounding landscape:
To the northeast lies the Elfin Forest Recreational Reserve, a 784-acre nature preserve offering miles of hiking, mountain biking, and equestrian trails. Also nearby is Lake Hodges, a major water source and recreational area for Rancho Santa Fe and surrounding communities.
To the west is the San Elijo Lagoon Ecological Reserve which has an area for bird watchers, hiking trails, and several museum exhibits detailing the ecological history of the Lagoon area. San Dieguito Park, a spacious and scenic public park, sits just outside the bounds of Rancho Santa Fe.
Towards the east and southeast are other historic ranches like Fairbanks Ranch, Black Mountain Ranch, and Rancho Peñasquitos — all of which are minutes away from virtually any point in Rancho Santa Fe.
Greater Rancho Santa Fe and Covenant Lands
Rancho Santa Fe and The Covenant are often used interchangeably, but there is a slight difference between the two. 
Strictly speaking, Rancho Santa Fe refers to the larger census-designated place that shares a border with Solana Beach to the west, Olivenhain (Encinitas neighborhood) to the north, and Fairbanks Ranch to the south. 
The Covenant is the innermost enclave within Rancho Santa Fe where you'll find the town center, as well as the Rancho Santa Fe Golf and Tennis Club. Designated as a historical community, The Covenant is the original planned community (designed by Lilian Rice) that sprung up following the incorporation of the Rancho Santa Fe Association.  
Weather
Like most of San Diego County, Rancho Santa Fe benefits from consistently pleasant weather all year round — ideal when it comes to enjoying the outdoors and the community's top-tier amenities. 
In a year, there are over 260 days of sunshine and about 40 days of light to moderate precipitation on average. The hottest temperatures are typically recorded in the middle of summer, during the month of July. Temperatures usually drop to their lowest in January though it never gets cold enough to experience snowfall. 
Lifestyle
Blessed with a pleasant climate and surrounded by verdant parks and some of the finest country clubs in the area, Rancho Santa Fe offers residents plenty of ways to enjoy upscale Southern California living. Whether it's tennis, horseback riding, or a leisurely stroll along a line of boutique shops, there's a little bit of something here for the discerning home buyer. 
Community Amenities and Landmarks
Rancho Santa Fe Golf Club
Designed by renowned golf architect, Max Behr, this much beloved golf club is the crown jewel of Rancho Santa Fe Covenant. Only members of the Rancho Santa Fe Association may apply for club membership. Spanning 6,700 yards, this par-72 course offers a challenge for experienced golfers and gives beginners a beautiful setting to learn the sport. 
Apart from the Clambake (a professional-amateur golf competition started by Bing Crosby) other notable events held in RSF Golf Club include the San Diego Open and the 101st Edition of the Southern California Golf Association Amateur.
Rancho Santa Fe Tennis Club
Exclusively available to Covenant residents and their guests, Rancho Santa Fe Tennis Club features 10 hard courts and two clay courts suitable for enthusiasts of all skill levels. Those who wish to hone their game further can seek out proper advice from highly trained tennis teachers on site.
The Arroyo Preserve
Rancho Santa Fe residents also have access to 68 acres of open space in the form of The Arroyo Preserve. Open to RSF Association members and their guests, The Arroyo is a great spot for trekking, horseback riding, fishing, and overnight camping.
In addition to providing a suitable habitat for various wetland species and native/non-native grassland and vegetation, this wilderness area also acts as a natural buffer that shields RSF from new home developments to the east. 
Rancho Santa Fe Field and Richardson Field
Many families and long-time residents in Rancho Santa Fe Covenant are avid supporters of youth development through sports. Two fields were built for that purpose. 
The RSF Field has a full-size soccer field and a regulation baseball field (90-foot base paths). Children can run around and amuse themselves in a nearby play area, complete with child-friendly structures and obstacles. Richardson Field was created with younger kids in mind, featuring a slightly smaller baseball field and a junior soccer field.
Osuna Ranch
Step back in time and immerse yourself in the historic 25-acre Osuna Ranch, where visitors can walk for miles while admiring green pastures and trained horses by the nearby stable. The local association purchased the ranch in 2006 to preserve a key connection to Rancho Santa Fe's past. 
Built in 1831, The old adobe home on site is listed on the National Register of Historic Places and it's one of the oldest structures in California today. Community events are held annually in this historic ranch, such as the Fall Festival and Celebrate Osuna.  
Shopping and Entertainment
Establishments are relatively few in the Covenant compared to other neighboring communities. That said, the area is far from being bereft of dining and retail spots. Here you'll find restaurants like Thyme in The Ranch, Caffe Positano, and Mille Fleurs. For your retail fix, shops like RSF Bookseller, The McNally Company Antiques, and Upscale Resale Shoppe are some of your options. In addition, banks and essential services are also within easy reach. 

Still within the larger Rancho Santa Fe area, the charming Del Rayo Village Shopping Center is easily a local favorite which provides residents all the essentials — from cleaning services and fresh produce to pilates and artwork. This retail area is also accessible to other communities such as Fairbanks Ranch and Black Mountain Ranch.

Emulating RSF's recognizable Spanish Colonial architecture, this shopping mall prides itself on marrying old world charm and modern convenience. At Rancho Santa Fe Plaza, you can enjoy a leisurely catch-up at a French café after an invigorating yoga session. Firenze Trattoria and The Original Pancake House are great places to grab a bite to eat. 
Top Schools in the Area
Rancho Santa Fe is home to excellent education institutions in and around the neighborhood: 
Real Estate Snapshot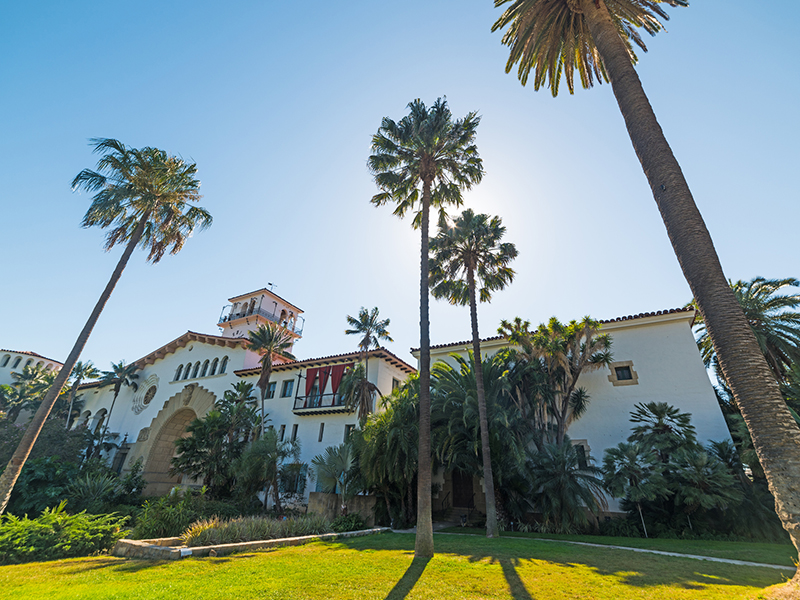 Well-maintained luxury estates and the surrounding natural beauty come together in a highly prized real estate package. Rancho Santa Fe's median home price is anywhere between $4 million and $5.3 million. Many properties have multi-million dollar price tags, with some homes selling for well over $20 million. 
The vast majority of the housing stock is composed of exceptionally large single-family homes incorporating Spanish Colonial Revival architecture. These properties have a square footage ranging from 1,700 square-feet to more than 15,000 square-feet. Multi-acre lots are common, allowing residents plenty of space to fit a variety of luxury amenities.   
In addition, it's not unusual to find a select few condos in the area, often priced just below $1 million.
Prominent Personalities Who Have Property in Rancho Santa Fe
A number of celebrities, famous entrepreneurs, and other A-listers have, at one point, lived in Rancho Santa Fe. And there are quite a few who still have a home or two in the area.
Bing Crosby, the iconic singer and actor from the 1920s to 1970s, once called Rancho Santa Fe home. In 1937, Crosby conceived the idea of hosting his very own golf tournament (long before the PGA Tour) in the RSF Golf Club. "The Clambake" was a tournament unlike any other during its time, where celebrities and professional golfers teamed up to win the cash prize. An actual clambake was held after the competition. 
Bill Gates jointly owns a vast 229-acre estate in Rancho Santa Fe. Together with his former wife, Melinda, they bought the property in 2014 for about $18 million. The purchase was reportedly aimed at supporting their daughter's (Jennifer Gates) training as a professional equestrian. The estate is close to a horse race track. It was previously owned by Jenny Craig, founder and owner of the Jenny Craig Nutrition Company. 
NBA superstar,Kawhi Leonardpurchased a Tuscan-style estate in 2019 for a little over $13 million. The transaction was, in large part, due to his decision to move to the Los Angeles Clippers after winning a championship with the Toronto Raptors. The 7-bed and 10-bath property encompasses just over five acres. Highlight features include a lagoon-inspired swimming pool, a tennis court, as well as manicured and generous lawns.
Learn More About Rancho Santa Fe from The Jackson Team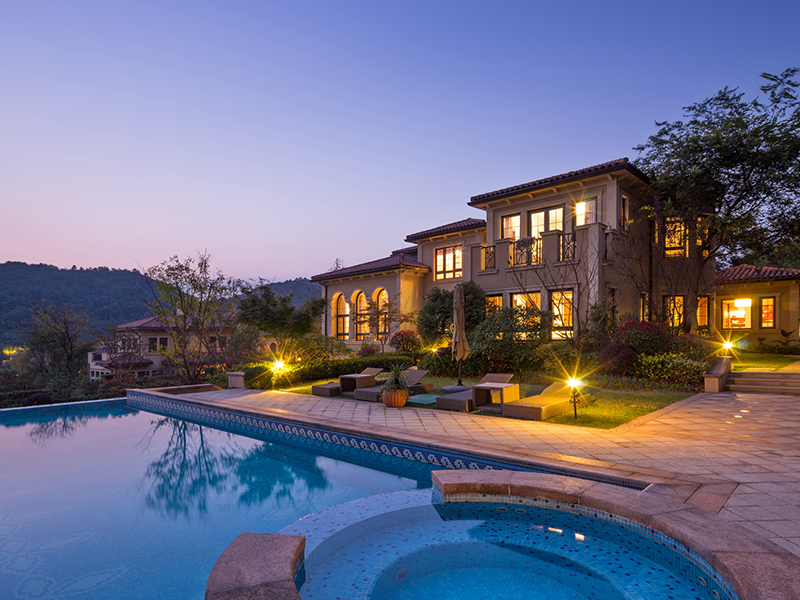 If you want to know more about what makes Rancho Santa Fe a top choice among luxury buyers, get in touch with knowledgeable local Realtors in the area.
The Jackson Team will get you up to speed with Rancho Santa Fe real estate. Whether it's The Covenant, The Bridges, or The Crosby Estates, our team of experienced real estate professionals will walk you through the best communities that suit your tastes and lifestyle preferences.
The Jackson Team is led by Delorine Jackson, a veteran Realtor with over 25 years of experience in the industry. Delorine and her team have established a reputation for strategic real estate advice and client-driven service. Clients seek them out for their in-depth knowledge of San Diego County's most affluent neighborhoods.  
If you're thinking about investing in Rancho Santa Fe, contact Delorine and the team today to book a real estate consultation. You can reach out by phone or email to get started.